Grace without hierarchy is meaningless.
I wish to unpack this claim using (while at the same time taking very large liberties with) Alexis de Tocqueville's contrast between the paternalism of the European Ancien Regime, on the one hand, with the individualism of the then nascent America and the idealized fraternalism of the French Revolution, on the other, as a spring-board.  (I will lump the latter two under the common label "modernity".)  I would also point out that Protestantism did not banish hierarchy altogether, but merely flattened it to three levels: God, humanity and non-human life.  This view, however, is the historical exception rather than the rule.  Most societies have, as a matter of historical fact, organized themselves by assigning a social/moral status to persons that they either 1) inherit by birth or 2) are set apart to by those above them in the social hierarchy.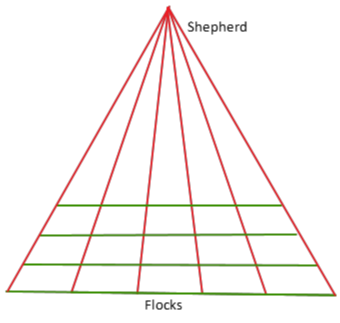 The diagram below depicts how paternalistic (traditional/pre-modern/etc.) societies are organized along vertical relations (the red channels) of grace and faith that are established through covenant.  Within this paternalistic understanding, faith includes tributes (goods and services), obedience and deference that move upward through the red channels.  Grace, by contrast, consists in protection, moral legitimation, collective direction and other forms of empowerment that come down through those same red channels.  It is in this way that grace just is "condescension" within these vertical, covenanted relationships.
The various enlightenment coalitions and movements actively challenged this paternalistic structure by way of strengthening horizontal relations (the green channels).  Such relations included constitutions, universal rights, free markets, freely entered contracts between equals (as opposed to the inherited and vertical nature of covenants) and – most importantly – calculation and argumentation.  The strong overlap of intellectual and mercantile interests that allowed these enlightenment coalitions to subvert and overthrow the paternalistic Ancien Regime should be fairly obvious in this list of practices
The purpose of the diagram and discussion above is to suggest how these vertical and horizontal channels still contradict each other within the church today.  Indeed, it would not be too much of an exaggeration to say that without these contradictions, the bloggernacle as such would not exist.  A strong majority of posts within our online community consist in "orthodox" members defending the red channels from green (modern) encroachment and the more "heterodox" members defending the green channels from red (premodern) encroachment.
The primary question, then, is this: given these contradictions, do we allow the green channels to cut through the red or vice versa? This question will seem absurd to many who insist that the green channels are the "natural" or "timeless" channels that, as such, cannot be cut.  Such a position, however, shows a marked lack of historical awareness since the green channels are actually the new kids on the block who had to work long and hard to achieve their current, largely unchallenged position within the modern mindset.
The most poignant examples of how red-channel paternalism have been challenged and successfully dissolved are so deeply ingrained in our current ways of life that we hardly see them for what they are: direct challenged to the ideas of faith and grace.  The clearest starting point for understanding the modern attack on grace is Darwinian evolution.  Within a paternalistic mindset, creation is an act of grace that MUST come from the top-down – just as the scriptures say.  The idea that a good and sanctified creation can "bubble up" from below is a direct assault on this idea.  Since the act of creation is one of grace that ties together authorship and authority (the two words being VERY intimately related), to challenge creationism just is to challenge God's sovereignty over that creation.
Competition within the free market (a phenomenon that directly inspired Darwin) was another, far deeper subversion of the idea that true and righteous "value" can only be created by a God who left us humans to tend and distribute His creative blessings in an essentially zero-sum manner.  It was within this mindset that "usury" and "profit" were unambiguously condemned by paternalistic societies – and within the scriptures.  (It is within this context that the calls for the united order should be understood.)  Expertise, – the idea that we should be positioned within any hierarchy based upon a calculation of our publicly observable (and thus universally contestable) results – is similarly condemned.  Upward mobility and ambition – the ideas that we ourselves determine how "high" we are or should be positioned within any hierarchy – are also denounced from the paternalistic perspective of the scriptures.
Finally, the ideal of deciding collective action through debate and argumentation within an open and public sphere is yet another direct assault on the ideas of faith and grace.  The paternalism of the scriptures totally rejects the idea that truth and righteousness could ever be the outcomes of oppositional processes such as peer review, mutual criticism, political demonstration or any other democratic deliberation (argumentation) or compromise of interests (calculation).   God's truth and morality come from above through authorized channels, a competitive or contentious process below.  Indeed, this is precisely why Christians insist that the great scientists – the ones they accept, anyhow – must have been inspired from on high, even if they themselves didn't know it.
To summarize the above: Creative acts, economic goods and services along with truth and righteousness are all forms of grace which can only (con)descend upon us from above.  It is in this sense that no amount of works in the creative, economic or argumentative sense could EVER save us from our unworthy selves. Salvation, justification and righteousness in general can never bubble up from below.
Having discussed the various ways in which the green channels of modernity can – and largely have – cut through the red channels of paternalistic societies, I would now like to show how the reverse can also happen.  This point is important given how disinclined us moderns are to believe that the green channels ever could be cut, let alone ought to be.
The most obvious way in which this can happen is through an appeal to authority: When a message comes down the red channels of grace, all calculation, deliberation and peer review that takes place across green channels thus become obsolete since moral legitimation comes exclusively from above.  It is for this reason that "when the prophets speak, the thinking has been done".
The second manner in which the red channels can cut the green ones is less obvious, but at least as important: By cutting the green channels, the red channels segment society into stewardships or flocks between which there need not, indeed, ought not be any deep and abiding logical consistency.  This segmentation allows each flock to adapt itself to its unique context and needs.  One case of this would be when one and the same shepherd gives different "flocks" over which he (they have traditionally been male) has stewardship different commands.  Another case would be when a separate shepherd (imagine a second triangle next to the one in the diagram above) gives his respective flock(s) directives that are entirely inconsistent with those of the first shepherd and his respective "flock(s)".  Stated differently, while no flock will ever have more than one shepherd, some shepherds might often have more than one flock.
If either of these paternalistic practices (appeals to authority or segmentation) seem problematic to us, it is because we are attempting to rebuild the green channels in order to pass judgement on and thus cut through the red channels that have segmented the population into authoritative stewardships.  This is not to say that all green channel practices are bad as such.  The scriptures plainly do not condemn any and all discussion, calculation, etc. as such.  What is bad, however, is when the green channels attempt to challenge and cut through the red channels.  The scriptural condemnation of this is unequivocal.  (It is for this reason that this very appeal on my part to the green channels of human reasoning is perfectly legitimate, so long as it does not cut through the red channels of priesthood authority.)
I would like to conclude by using the discussion above to situate two different perspectives regarding "loyal opposition" within the church.  The modern mind assumes that "loyal opposition" is the moral default against which God will set apart any exceptions (like in the case of Zion).  Indeed, loyal opposition is very nearly unavoidable since all have – or ought to have – equal voice.  Thus, while we are always supposed to strive for the oneness of heart and mind that is Zion, this is merely a mythical ideal that structures inquiry within the green channels. There is, however, no expectation that such an end-state will ever, or even could ever actually be reached in practice.  What loyal opposition involves, then, is a process where a person positions him/herself as an equal and competing authority through a strong appeal to the green channels at the expense of the red channels.
The alternative perspective sees loyal opposition in a very different light.  Before I describe this alternative, let us be clear that a rejection of "grass roots" opposition is a very far cry from a rejection of all upward communication.  Secondly, the unity at gun-point sought by fascist regimes is also an extremely far cry from the voluntary deference advocated within and by the church.  Totalitarianism is a modern phenomenon, while the paternalistic societies being used as a model were pre-modern and traditional.  That said…
While a paternalistic perspective does endorse a kind of loyal opposition, it utterly condemns the idea that it can ever come from below.  As such, any attempt on our part to decide when such opposition is appropriate or from whom it ought to appropriately come is roundly condemned.  Consequently, a lack of loyal opposition within the church is the moral default and when loyal opposition is needed, God will call and set apart exceptions to this default.  Thus, the commandment to a oneness of heart and mind (like Zion) is a standing condemnation of opposition to the church authorities rather than a regulative ideal for opposing them.  Furthermore, this commandment is supposed to be obeyed in practice – in the here and now – rather than being the ever-retreating mirage that the modern perspective suggests.  Briefly put, righteous opposition occurs only through following the red channels upward to a higher authority – never through a grass roots appeal to the green channels below.
More concretely, if two church leaders disagree with each other, the moral default is to go with and be of one heart and mind with the higher authority over us (who may or may not be God Himself) UNLESS a third and even higher authority (who may or may not be God Himself) says otherwise. In this way, there is simply never anything to argue about, nothing to compete over and no attempts at circumventing the channels of faith and grace – for any reliance upon the green channels at the expense of the red ones just is a circumvention and subversion of faith and grace.  Whereas modern, green-channel opposition consists in positioning ourselves as equals to, and therefore in competition with church authorities, the paternalistic approach consists in sacrificing faith to one church authority for the sake of being more faithful to a higher one (who may or may not be God Himself).  At no point in this process does an appeal to the green channels of modernity ever become necessary or even useful to faith or grace.
A blogger for whom I have an enormous amount of respect and admiration stated the most obvious objection to the paternalistic perspective as follows:
"Decades of leadership has taught me one thing. If you don't value loyal opposition, it eventually becomes resentful and not so loyal."
The problem with this objection is that both sides see a problem in disharmony between a shepherd and his flock.  What they do not agree upon, however, is the solution to this problem.  The objection above entirely misses the point of the distinction I have drawn in this post by merely assuming that the green channels of loyal, grass-roots opposition are the only real or legitimate solutions to this disharmony.   History makes it perfectly clear, however, that this is simply not the case.  Indeed, most societies throughout history have sought to resolve such disharmonies through the red-channels, the scriptures themselves providing the most noteworthy examples of this.
Truly, it is very telling that essentially all objections to my defense of red-channel morality within the church have been grounded in arguments and intuitions that are foreign to the scriptures!  Such people seem not to realize that their green-channel objections actually serve as confirmations of my position rather than refutations of it.