Alright, the title is partially tongue in cheek since the method I describe below has more than a few caveats to it.
Ziff over at Zelophehad's Daughters put up a post shows the distribution of Facebook likes which readers of each blog in the bloggernacle have for each member of the 15 apostles.  Keep in mind that by "reader of a blog" I mean a person who has liked that blog on Facebook.  Thus, Ziff's data compares this distribution against the distribution which exists for the total FB likes to Q15 members.  I find this comparison interesting, but incomplete.  (Newcoolthang does not have a Facebook page, but this is not the incompleteness to which I am referring.)
Luckily, Ziff was nice enough to also publish his raw data in the post, thereby allowing me to analyze the data along different lines.  Whereas Ziff was concerned about the distribution of likes among Q15 members for each blogs readership, I want to analyze how much support there is for each Q15 member within each blogs readership.  By "support" I mean this: out of all the people that "like" a particular blog, how many of those people also like each Q15 member?  Here are the result of my analysis: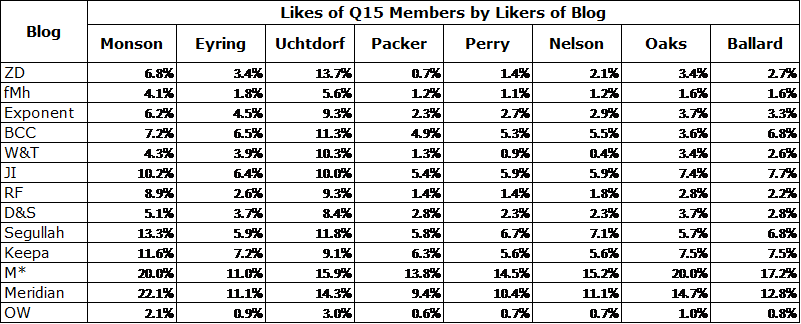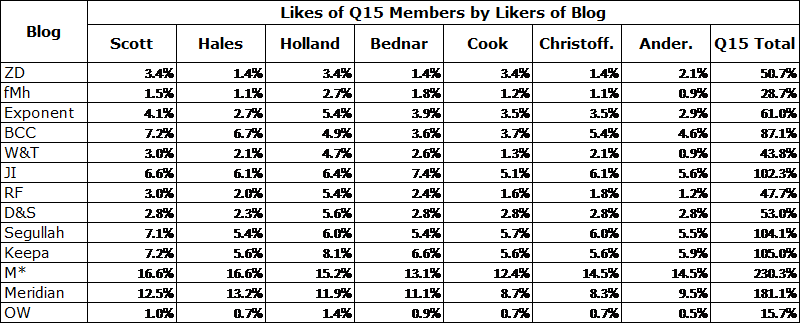 Analyzing the data along these lines presents a very different story than Ziff's analysis did.  For example, my analysis highlights the fact that M* and Meridian readers like Pres. Monson far more than the readers of the more liberal blogs do.  It also show that contrary to what Ziff took away from his analysis, M* and Meridian readers like Elder Uchdorf more than the readers of the more liberal blogs of which his is a part.  Of course, M* and Meridian readers like every Q15 member more than the other blogs.
Although Ziff did present the fact that M* readers "only" like members of the Q15 230% as much as their blog, I don't see that finding as surprising as he does.  We are, after all, focusing on a group that is defined by their 100% liking of the blog.  What I thought was more significant, however, was how the readers of FMH and OW do not like any Q15 member very much at all.  The most liked by the readership of these two blogs (5.6% Uchdorf at FMH) was significantly less than the least liked member of the Q15 at M* (11% for Eyring).
Yes, there are some serious qualifications to these findings.  For example, I do not think that these figures serve as an accurate measure of any individual's testimony.  However, I think they do give a general feel for how supportive each blog and their respective readership is of the Q15.  I think it gives a relative (not absolute)  measure of where a readership's loyalty lies such that if the blog and the 15 disagree on some issue, which side is the readership relatively likely to side with.
But again, not only are such relationships relative, one could also argue that the data sample is itself biased in certain ways.  Either way, I think these figures are worth thinking about in our individual relationships to the bloggernacle.