I made some major errors in this post initially. Please read this revision
In 2002, M. Russell Ballard, with the endorsement of President Hinckley, issued a challenge to the church that we strive to send those who are truly able and worthy on missions. A few years after, Blake Ostler posted over at Times & Seasons lamenting the loss of those who were seemingly now being denied the opportunity to go, as well as the loss of converts due to this. (see follow up posts on this, and see appendix for follow up on those posts) Today I am revisiting those numbers.

First of all, it is undeniable the number of missionaries has declined greatly since the call to raise the bar.

However, one thing we need to look at when examining this loss of force is what other factors are going on here. For example, let's look at the number of 19 year olds available from being born into the church for this period (making up 90% of the missionary force after allowing for the 2 year differential for sisters; otherwise it is still 75% of the work force) We can get this from the annual statistical reports from the late 70s- 90s.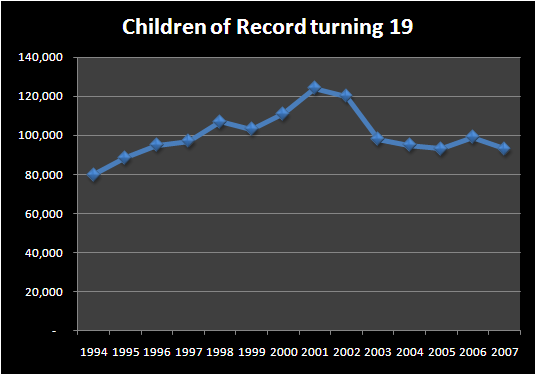 As we can see, there is a major decline in available youth which corresponds to the loss of missionary force. Since not all 19 year olds members had member parents at birth (and thus were not children of record since children of record is children added that are not yet baptized, usually via blessing and naming), another source for checking this group is seminary enrollments, which is available through the Seminary and Institute Annual report.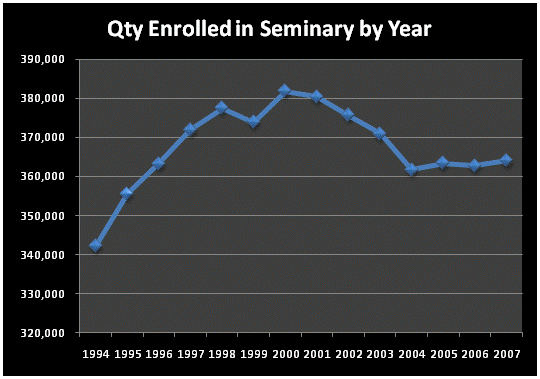 As Seminary is inclusive of 4 years of births, and missions are inclusive of 2 years of births, it is particularly interesting that the 2002 drop in missionaries corresponds so perfectly with the 2000 drop in seminary enrollments. Put another way:
While it is true that there is a drop in the percent of 19 year olds members serving missions in 2002, this drop is not the only contributing factor to the decline in missionaries. Compared to the extreme decline in births around 1983, this is less significant. (Note, see appendix 3 for an explanation of the test I did for correlation) This does not mean it is not important, in fact it may mean it is even more important, as the combination of less available staff with less staff volunteering is a true double loss.
Finally, Before or after the bar was raised, about 3 out of 10 LDS youth record as Children of Record served missions.If this correlation holds true, things are going to get worse before they get better, with only 45,000 missionaries by 2017. We won't see 60,000 missionaries again until 2027.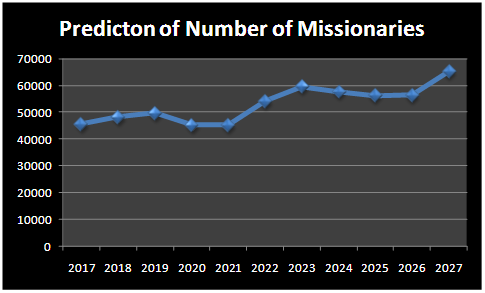 This means that if congregations continue to grow at about 1% a year, then the church will only have about 1.4 missionaries per ward in 2017 as opposed to its current 1.9 missionaries per ward. Right now, with two missionaries in a ward or branch, about 2000 wards don't have dedicated full time missionaries, in 2017, that number will quadruple to 8,000 wards or branches (25%) with no missionaries. Things should improve again by 2027, with only 1,300 wards or branches lacking missionaries by then.
Questions:
What happened to mormon fertility in 1983? Did it radically go down, or did people just stop putting their kids on the records suddenly that year?
How do we get more than 3 out of 10 nineteen year olds to serve missions?
Appendix A:
For completeness, since many have wondered about raising the bar bringing more converts per missionary, here are some pertinent charts to consider.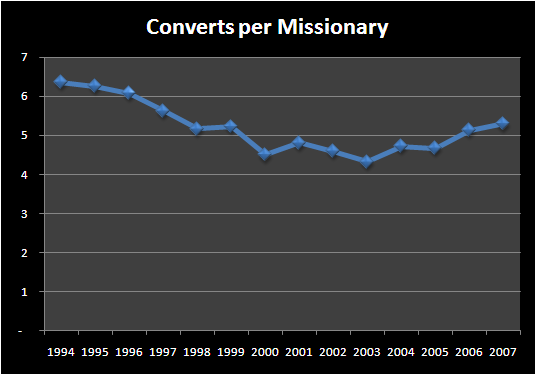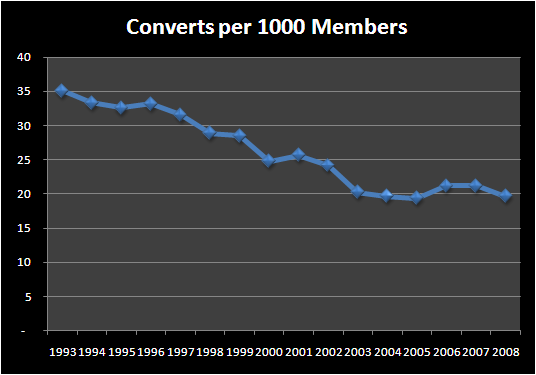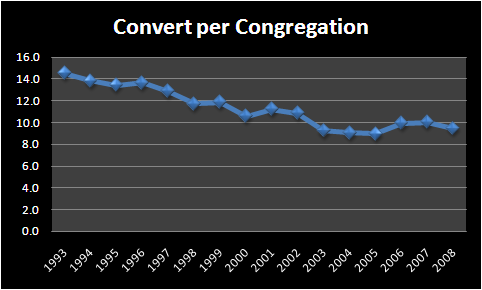 Appendix B: In response to J. Stapley's Comment # 9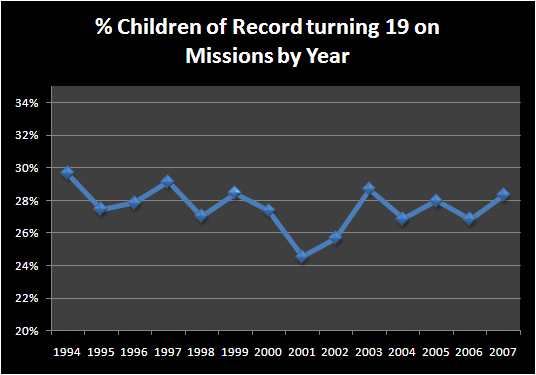 Item of note here is that yes, in 2001-2 there was a dip, but the Bar was raised in October, 2002. If anything, we got more missionaries, not less, from raising the bar.
But I actually think the % Seminary Youth to Missionary tells the story more clearly.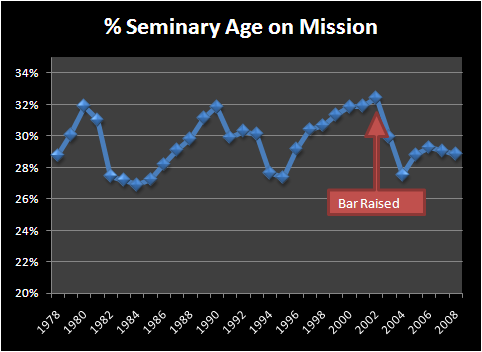 Yes, we say a drop in 2002 here, but we also saw a Drop in 82 and 94. Were there "Bar Raisings" in those years?
Appendix C-
To show the Correlation between all these data points, I pulled the Growth Rates for each point over 94-2007. All together this looks like this.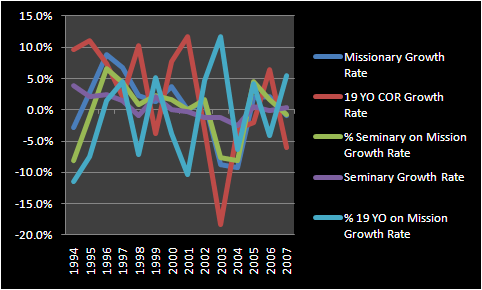 The Idea here is that the Items that have the most Synchronous Growth Rates to the Growth Rate of Missionaries also have the highest correlation.
To make this more clear, I've created individual charts of each correlation to the Growth of missionaries.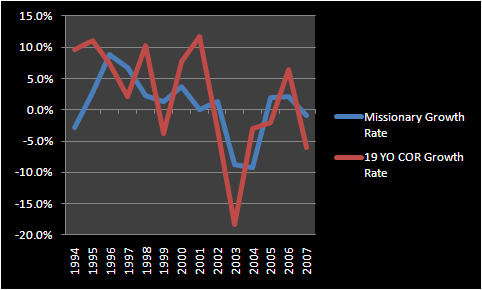 Note the Correlation before 2002 is weak, but suddenly in 2002, as the birth rate rapidly declines, the Children of Record Growth rate takes strong control of the Missionary Quantity. This does not negate the strongest correlation, however.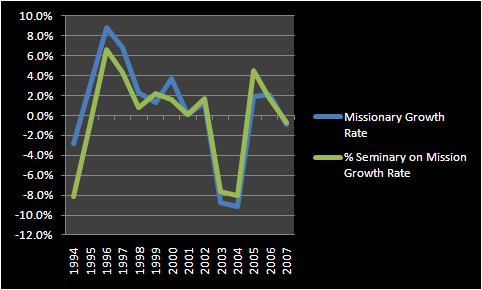 As can be seen, the number of teenagers either choosing to go on missions or being allowed to go on missions has an extremely strong correlation to the number of missionaries that go on missions. This in fact does show that Raising the bar did have a major impact on the number of missionaries in the field, which was also compounded by the declining birth rate.