I received the following in my e-mail today, and as I am aware that many of our friends at FPR and JI take an interest in the goings on of CES, I thought I'd put it out for public consumption.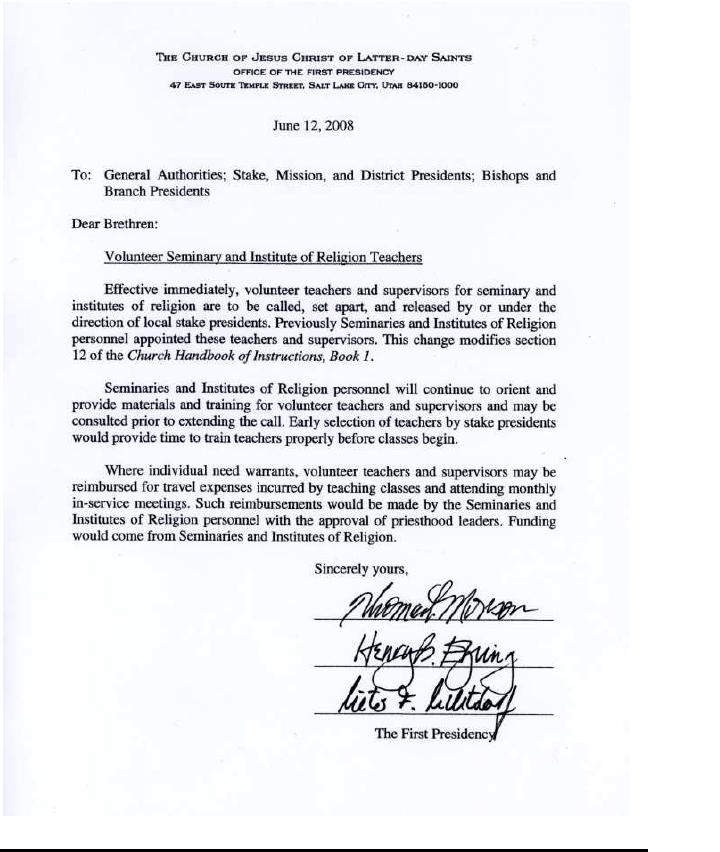 Personally, I am glad to see local CES falling under the authority of the local Stake Presidency.
First, this enables areas where there is a stake, but no CES influence the ability to run a seminary program according to their local needs. Second, this allows the Stake more control and responsibility in the selection of CES teachers. Third, this decentralizes CES control. Fourth, I think people are much more likely to reect appointments than callings and this is in part a reaction to many people quitting seminary teaching assignments. Finally, it used to be that a channel into CES emplyment was to volunteer, and if you performed well, you could get a paid opportunity. It seems that this somewhat backward window into CES is closing.
I do have some worries though. My primary worry is that requiring all CES teachers to be called and set apart may terminate most if not all of the interesting CES courses, like Julie Smith teaching an entire semester on half of Genesis, or Kevin Barney teaching a class in Hebrew or Greek for institute in Chicago. It doesn't affect me directly, as none of these things are offered in San Antonio, but I still like the idea that courses are being offered. I guess time will tell.
It will be interesting to see what if any this policy change will have. In any case, I am grateful for church administration, and their inspired efforts to improve the church. Now I just need to keep praying for help with this "early morning" bit of it…