Ok, after a seven month layoff I figured now would be a good time to pick up my discussion of Stephen Covey's 7 Habits of Highly Effective People. If you weren't following along last Spring, you may not know that Habit 1 is: Be Proactive. In short, that means: "You have free will (in the full libertarian sense of the word) so use it. Do something. No excuses." Habit 2 is: Begin with the End in Mind. This one is sort of about goal setting but it is also about metaphysics and mapping out existence for ourselves and trying to decide where we actually fit in the universe and where we intend to end up (whether in this life or past it). Now we're on to Habit 3: Put First Things First.
Habit 3 could be summarized like this: Now that you know you control your own thoughts and actions (Habit 1), and now that you have short term and long term goals in mind (Habit 2), you need to put first things first and accomplish those goals efficiently by minimizing your procrastination and distractions. Covey suggests that a good way to evaluate our daily activities is by breaking them down into four quadrants along two axis. One axis measures "importance" — is the activity important when it comes to your goals or not. The other axis measures "urgency" — how pressing is the activity. Here is an illustration of the four quadrants that arise: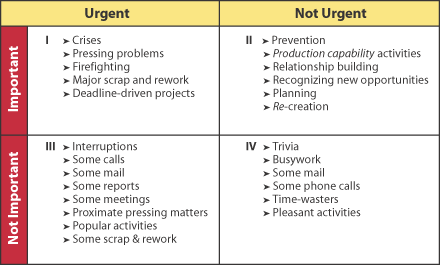 The killers to productivity are quadrants III and IV. Quadrant III consists of busy work– things that suck up our time but don't really move us closer to our goals. Quadrant IV is the laziness quadrant — the things we do when we really don't want to work at our goals when we know we should. (I should note quadrant IV is not having fun or unwinding after working hard; Covey insists that is actually very important. Rather quadrant IV is lollygagging about when we know we should be working.) Quadrant I consists of "fires" in life that require our urgent attention. (Note: Covey thinks that lots of people love to live in quadrant I because it makes them feel important and useful. He calls it the "urgency addiction". You know the type — always frazzled and running around like a chicken with its head cut off…) But the key to true productivity is quadrant II. This quadrant consists of all those things we know we should be doing but we put off anyway (like exercising, pondering/praying, planning, etc.). Covey teaches that the key to being efficient and productive with our time is to take the time we are devoting to quadrants III and IV and put it into quadrant II. Once we begin to spend more time in quadrant II we discover that quadrant I begins to shrink and there are fewer fires to put out in our lives.
So there is the short version of Habit 3 — the book(s) obviously go into much greater detail than this. I think it is a very useful way of looking at our activities in life. (My problem is that I'm not convinced I am particularly good at actually doing important things as consistently as I should.) Thoughts?