Earlier in the history of New Cool Thang I mentioned that I was training to run a half marathon. I'm sure most of you thought that I ran like a mad woman for a few weeks and then as my enthusiasm for the project petered out so did my training. Well shame on you! I'll have you know that I'm still running like a mad woman both literally and figuratively.
Ok, ok, I'll be honest with you…the only reason that I'm still running on a regular basis is because I've been running with two good friends every week. It's my fear of looking like a complete quitter in front of them that has kept me going, that and my fear of growing a giant bum.
After training for a couple of months my fellow runners and I decided that we were ready for the big time. We were going to run a 10k (that's just a little over 6 miles for the Americans among us). We'd been running around our neighborhood several months, how hard could a 10k up in the mountains be? We were soon to find out…
Race day morning broke much too early for me after spending the night tossing and turning in anticipation of the race. I geared up in my running clothes, camelback, and most importantly the nano with the nike+ipod sport pack. I love that thing!
As I stand in a group of people at the starting line I think to myself, "What the heck am I doing here?" The starter guy says, "Ok folks, 90 seconds until the race starts…Ok, folks, 60 seconds until the race starts…Ok folks, 30 seconds until the race starts…"
"Alright already," I want to shout. Eventually the siren goes off and most of the runners are off like a shot. At least I can beat that old guy jogging in the khaki pants and white cross trainers. I keep my eye on him but in the shuffle of the crowd I lose him. One of my friends also races out of sight. She's the littlest of the 3 of us. Why are the little ones always so speedy?
Right away I feel the altitude. I'm not used to running at 6100 feet. It's worse than I thought it would be. It feels like I'm ascending at a 45 degree angle too. Sheesh, who chose this route?
Ok, Sister J just crank the tunes and get to it. I run through several songs determined not to hit the button on the ipod that makes the lady say, "You have completed 1.2 miles, time is…" I wait and wait, using all of my self-control to keep from pushing that button. It feels like I've run at least 2 miles, ok here's the first water station.
As I pass the eager people holding out their cups of water and Gatorade I see a sign just beyond the cooler and it says, "1 mile!" If I had the breath to cuss the air surely would have been blue around me at that moment.
Ok, Sister J it's time for some positive self talk. All that is in my mind is hitting the half-way point where we hit our highest elevation point, turn around, and come back. I know I can do this. The only thing distracting me now is the 70 year old lady using me as a pace car. Would it be rude if I elbowed her in the throat?
I'm in the zone, hitting about the 2.5 mile mark when I see the first two guys screaming down the mountain. It's a pretty impressive sight seeing these guys pushing their bodies to the limit. Not long after that two women go blasting by me. I was very proud of my sex at that moment. Those girls truly rocked!
As impressed as I was with the first four finishers of the race it was the next racer that inspired me the most. The old guy in the khaki pants! I think my jaw hit the road as he raced by. He managed to finish the 6+ miles in 47 minutes. I know because I checked.
Finally I make it to the turn around. I know I can do this now. I see a young girl of about 12 in front of me and I think it's possible to beat her to the finish. I set her in my sights and pound back up the hill. I never manage to pass her and she was probably ready to elbow me in the throat by the time the race is over. I was glad to have her as my pace car though.
Honestly there were a few times during the race that I wondered what the heck I was doing and why any sane person would ever want to run at all. Eventually I see the finish line and the first 2/3 of the racers are cheering for me. I feel a little dorky at first and then I start to feel pretty good about myself. I did it! I finish the race in 61:51. Sure it's not that great but I was thrilled to average under 10 minutes a mile.
It was a hard race but I'm so glad I did it. It reminds me that life is good. If I challenge myself I can achieve extraordinary things. A legacy that I hope I'm passing on to my children. Heck, maybe even my grandchildren will be impressed with me when I kick their butts across another 10k finish line someday!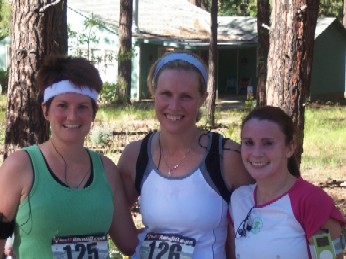 This post is dedicated to Lisa and Sarah, thanks for keeping me going. Your fellow Arizonans also thank you for keeping them from having to look at another giant bum!
[Associated radio.blog song: Natasha Bedingfield – Unwritten]