Well, my fellow bloggers here are a couple Halloween pictures that I promised to post.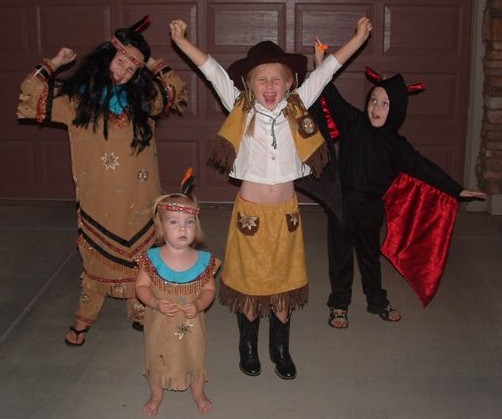 The first picture is of my dear little ones in their Halloween costumes that were hand-sewn by me. I slaved away for many a day on those babies and now have promised my self that I will never do that again. Not only was it way to time consuming but my back is still recovering from sitting hunched over a sewing machine for way too long.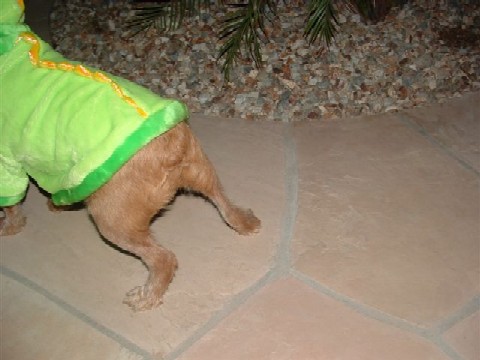 The second picture is of a dog's behind. I thought everyone would appreciate my fabulous photographic skills. Honestly it wasn't completely my fault, the dang dog would not hold still. Next time I will just ignore any dinosaur-costumed dogs roaming the neighborhood. Maybe not though, it is a pretty sweet picture.
I don't have any pictures of my husband and me in our costumes yet. I'll have to get those from my neighbor before I can post them. Please keep checking back at "The Thang" frequently for the sure-to-be-fabulous pictures. If they make me look fat you can forget ever seeing them posted here though.
Apart from the few minutes I ran around the neighborhood like a crazed maniac looking for my separated 4 year old (don't worry I found him quickly) it was a pretty fun Halloween night.
[Update]
Due to popular demand, we have updated this post to include this shocking photo of a small bat ninja battling a larger, uglier ninja in broad daylight. As you can see, the bat ninja is attempting to employ the dreaded "Monkey Steals the Peach" maneuver. Rumor has it the fight erupted after a dispute over candy distribution…