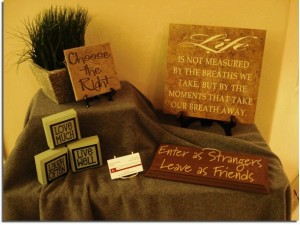 If you live outside the Mormon corridor, you may not have seen these types of signs or tiles up in people's homes (as illustrated in the photo to the left). It seems like every Mormon home I go to has a sign up in awesome stenciled lettering which provides opportunities for reflection on deep gospel principles (like "Choose the Right" or "Love is Spoken Here"). I haven't loved the new fad of the decorative tiles or the vinyl stenciling on the walls until I saw one that stated, "What if the Hokey Pokey really is what it's all about?" At that moment I realized that we could start something wonderful that will catch on, especially in Utah Valley. I thought of some new ones that would work well in our home and hope you will share some sayings that you think could catch on. My wife thinks about 1/3 are totally dumb, but who knows which one will soon be hanging in our home? You may hold the key to swaying her with your vote.
Honoring your agency means telling you no.
I never said it would be easy.
Obedience is the first law of heaven. The second is like unto the first.
It is always darkest before God opens a window.
I love you no matter how I treat you.

Lead, follow, or get out of the way.
Everything happens for a reason you couldn't understand.
Return with honor; I'm holding the iron rod.
Save the cheerleader, choose the right.
Sacrifice. Just do it.
Men are that they might be giants.
There are no sins, only weaknesses and shortcomings.
Be still and know that I know what you did last summer.
Remember who you are; if you don't already know, I'm not going to tell you.
The field is white, the sky is blue.
Find joy in the journey, right in the last place you left it.
Faith: knowing is half the battle.