This will be the third and final post in my "Faithful Nietzsche" series. To recap, the first post appropriated Nietzsche's concept of the Übermensch by attacking our own tendency to burden the living prophets with the weight of the dead by ignoring their limitations in stewardship. The second post appropriated Nietzsche's hostility toward the universal equality around which modern morality is centered, suggesting (similar to Kierkegaard) that to be religious and to be moral are sometimes two very different things. In this third post, I will first unpack my own model of truth. After which, I will compare and contrast my model to that of Nietzsche. While there is quite a bit of overlap between the two models, there still remain several significant and irreconcilable differences.
The Metaphysics of Authenticity
Essentially every account of truth posits some "pure" or "authentic" ideal – about which it tends to be very vague – that tends to be distorted or corrupted by outside – and usually very specific – influences or forces. The classical liberal versions suggest that truth is an corroborable description of the external world and the laws which structure it, free from the distortions of superstitious traditions and dogmatic authority figures. A more Marxist approach is slightly different in that the forces which most distort and corrupt the authentic truth are asymmetries in socio-economic forces: so long as we live in a class-based society, the powerful cannot help but impose a "false consciousness" upon the weaker class(es). Nietzsche's approach is almost the exact opposite of Marx's in that he fears the ways in which the weak attempt to organize themselves according to an ideology of universal equality and distort/corrupt the authentic expression of exceptional strength and greatness amongst the nobles. Similarly, Judeo-Christian doctrine insists that the "natural man" (which Nietzsche absolutely loves!) or "weaknesses of the flesh" in addition to the "false traditions of the fathers" are what corrupt the true and authentic expressions of the spirit.
The most obvious problem with this "metaphysics of distortion" is that there seems to be no neutral way of adjudicating which account of "authenticity" is the undistorted and authentic account that we are supposed to be seeking. Each account can all too easily dismiss each of its competitors as an expression of some distorting force – some "false" (not merely "different") consciousness. Indeed, each specific metaphysics is specifically designed for the primarily purpose of demonizing a very specific competitor – hence their exaggerated focus on distortions rather than on truth itself.
While I do not have a principled objection to the metaphysics of distortion, as such, what I do object to is the impression (which they all cultivate to some degree) that social relations are the problem –  *the* primary obstacle to truth. When other people are thus considered to be bugs rather than features to a normative system, this biases us toward individualistic conceptions of truth that combine a strange mix of mystification and deflation.
The most obvious expression of this individualistic tendency toward mystification and deflation lies in "Robison Crusoe" accounts of truth. In such accounts, a second person (me) passes judgement to a third person (you, the reader) from the outside about the first person (Robinson Crusoe) who we are pretending to be stranded on a desert island and thus beyond all outside judgements of second and third persons such as ourselves. The performative contradiction that is built into such accounts is rather obvious, but there is no escaping it.  Indeed, this same performative contradiction lies at the heart of any and every individualistic account of truth for they all pass moral judgment upon some isolated individual who is supposed to be outside of all moral judgment.
What such Robison Crusoe accounts attempt to do is 1) equate truth with the activity of some isolated, non-social individual (typically the accurate tracking of the natural environment), and then 2) complicate and develop the picture by adding more people to the supposedly deserted island.  Thus, infants, animals, machines or anything else that tracks its natural environment "has" various sorts of truths and falsehoods which are merely different in degree from the truths and falsehoods that we, socialized language users communicate with each other.  By attributing such truths and falsehoods to all such "agents", however, we are committing the exact same performative contradiction of which we were guilty when we passed judgement on Robinson Crusoe: at no time was the first individual ever alone since we – the readers and writers of the story – were always there with him. It is simply impossible, even in principle, to tell a story about a morally isolated individual.
Truth – a truth that really and truly matters – is not, therefore, a non-social something, some tracking of the natural environment that social beings are, additionally and separately, able to communicate with each other. Instead, truth is an intrinsically social something which social beings such as ourselves are able to collectively project onto non-social beings and events. Other people are not always an obstacle to truth. Indeed, while other people are (obviously) not a sufficient condition for truth, they are a necessary condition for it. Without other people there is no truth that is worth praising or condemning, if only because there are no people to perform the requisite praising and condemning. If truth is praiseworthy, and falsehood is worthy of condemnation, then truth cannot be a non-social activity in which some (perhaps non-human) Robinson Crusoe participates in.
As such, I have no use for a model regarding when a person can decide that their own beliefs are true or not, without any regard for what others might think. Indeed, the stronger we protest that what really matters is what the individual him/herself thinks, the more we inadvertently refute such a claim by communicating it.  What we want, then, is a model where I can decide whether somebody else's beliefs or claims are true or not. Even stronger, I want a model where I can praise and condemn such a person's beliefs or claims to a third person such as yourself. This is, after all, exactly what I am doing right this very moment and what Nietzsche, Marx and every other theorist was also doing when they condemned the words and actions of some persons as corrosive distortions to authentic truth. To repeat:
Truth – to the extent that it has moral value – is a practice where we project the values native to our social communications upon the tracking by an individual of their non-social environment, and not the other way around. As such, truth is intrinsically and inescapably social in nature.
Truth as Moral Coalition Building
Indeed, I will go even further than that:
Truth is, first and foremost, an activity in which we build moral coalitions for or against something or someone. Its relationship to the non-social world is purely derivative upon this.
Just to be clear, the account and figure below is not meant to be a "theory" of truth in the sense of adjudicating or prescribing disputes between those beliefs and values that we ought to seek, believe and affirm. Since human beings have always gotten along just fine using the words "true" and "false", there is really no need for a theorist to come along and tell us what truth "really is". Of course, this is not what such theorists are actually doing.  What they are doing, instead, is offering – sometimes even prescribing – changes in the ways that we already use these words. Yes, my model attempts to offer a different way of approaching "truth" and "falsehood", but I do my best to resist the theorists' temptation to prescribe how and what we ought to think. All such prescriptions to some authentic ideal are, inevitably, thinly disguised moral obligations to which I deny any philosopher or social theorist the authority to bind us.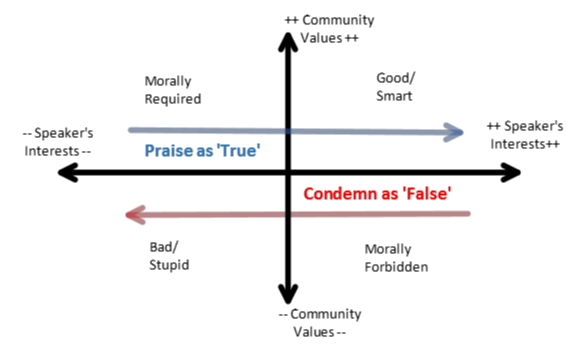 The figure above illustrates the logic of my model. The x-axis represents how much any given communicative act is in my own interest – how life-affirming it is for the speaker, to use Nietzschean language. All other things being equal, the less a communicative act is in my own interest, the less likely I am to perform it. The y-axis, by contrast, represents how much the community to which the speaker addresses him/herself values or appraised my communicative act – be it in terms of faith-affirmation, emancipation, objectivity, etc.
These two axes create a 2×2 matrix which is best understood in terms of its diagonals. If a communicative act goes against the interests of the speaker as well as the values of the community, it is simply stupid or bad. Since it disincentivizes itself, this type of behavior requires no morally prohibition or enforcement. That which promotes or affirms the interests of the speaker as well as the values of the community is good or smart. Again, no moral requirements are necessary since such acts are already in the speaker's interest. We might call this upward sloping diagonal a measure of how "intelligent" a communication is, in a very loose sense of the term. By contrast, we can call the downward sloping diagonal a measure of "moral prescription". Those communicative acts which are in the speaker's interests but against the values of the community are morally forbidden. Unless there is some kind of moral punishment of these incentivized communicative acts, speakers will tend to continue to perform them. Those acts which are against the speaker's interest but affirm the values of the community are basically the mirror image: morally required communications which will not be performed absent some moral rewards.
This is where truth and falsehood come in. Truth is the means by which we recruit a moral coalition, as well as affirm our own allegiance to that coalition in favor of morally required persons, behaviors and claims. This moral coalition is meant to incentivize communicative acts that are morally required such that they become more in the speaker's interest.  Falsehood is, again, the mirror image of this.  It is the means by which we recruit a moral coalition, as well as affirm our own allegiance to that coalition against morally prohibited persons, behaviors and claims, such that they become less in the speaker's interest. Truth is not a mechanical, abstract and disinterested contradiction of anything, but a moral purification of the community which is organic, fluid and evolving over time.
Nietzsche's Perspectivism: Compare and Contrast
Truth is communitarian. Nietzsche believes that truth is the interpretation that is most life-affirming – and William James says something similar. What they do not ask, however, is "Life-affirming for whom?" Under my model, the more useful or life-affirming an interpretation is to a person, the more likely they are to hold or affirm it… But that doesn't make it any truer. Indeed, those beliefs which benefit me at the expense of others are those which we are most likely to call "false." My model thus turns Nietzsche's hierarchy of interpretations 90? by insisting that that truth is more a function of the costs and benefits to the audience. If it is life-affirming for them to publicly defend, spread and mount a moral coalition around the belief, they will call it "true". If it is life-affirming for them to publicly contest, condemn or mount a moral coalition against the belief, they will call it "false". Indeed, this is exactly what Nietzsche is doing with his high-pitched polemics against Christian morality.
Truth is prescriptive; my model is not. Nietzsche insists that the explanation for any person's beliefs can be reduced to two things: philology and physiology. Some beliefs are healthier, more life-affirming than others, they being the outcome of a strong and healthy life in which only an elite few partake. The weak will condemn the strong and the strong will be contemptuous of the weak, but inasmuch as moral obligation enters the picture at all, it is only an obligation which the strong have to their own inner drives and instincts (more on this below). While I reject Nietzsche's biologism as well as his individualism, I do think that his description gets a lot of things right. If a moral coalition is not potent enough to shift the incentives faced by strong individuals, these will tend to communicate more false things and less true things – whether we like it (as Nietzsche does) or not (as the rest of us don't). What I strongly object to, however, is when Nietzsche clearly implies, if not outright declares that this is a good thing. Since my own model does not depend upon what the particular values or rules of any community are or ought to be, it stands in stark contrast to the prescriptions that Nietzsche builds into his model.
Truth is sociological, not psychological. Nietzsche's entire project was to replace as much of philosophy as possible with psychology. Consequently, he explains the beliefs we accept and defend in terms of "our desire to be rid of an unpleasant uncertainty, we are not very particular about how we get rid of it: the first interpretation that explains the unknown in familiar terms feels so good that one 'accepts it as true.'" (The Four Great Errors, 5) While the only obligation that the strong is toward their own, inner instincts and strivings, the weak, the contrast, bow and cower before their own, inner uncertainties and fears. My model, by contrast, replaces a vague fear of uncertainty in the face of unspecified threats with a very specific fear of moral coalitions within the community. Our communications are not aimed at satisfying our inner fears so much as satisfying potential critics and marshaling potential allies within the audience to which we address ourselves. It is solidarity with moral allies, not an individualistic, inner peace that explains the beliefs that we defend as true and condemn as false. Simply put, our moral obligations are to other people, not our private, inner instincts.
Asymmetries of power are relevant, but not determinate. Marx thought that asymmetries of socio-economic power within a community allow the powerful to foist a "false consciousness" upon the weak. Nietzsche thought that an organized coalition among the biologically weak empowered them to foist a "slave mentality" upon biologically powerful individuals. While I fully agree with both of these descriptions, I completely reject the morally loaded terms in which they are couched. Both are clear examples of different groups labeling each other as distortive "false" for the sake of marshaling moral coalitions against the other. Yes, the powerful do, by very definition, exert a disproportionate influence on the interpretations which are reproduced and circulated throughout a community. And yes, these individual can, to some degree and at some cost, be contained by organizing society differently. But I see no non-tendentious reason why "truth", "falsehood" or "authenticity" must fall squarely and neatly on either side of these divides.
Objectivism and subjectivism are both wrong, and for the same reason. Nietzsche rejects the idea that all people, equally and universally, must answer to the same standards of praise and condemnation. The scriptures agree with him, in that different people within one and the same community have, as a matter of verifiable fact, clearly and obviously been judged, praised and condemned by different standards than others. Indeed, this is the whole point of setting somebody apart to a given stewardship: so that we will accept that person's communicative act while rejecting the exact same act when performed by somebody else. My model holds that truth is an irreducibly social practice which can never be reduced to the behavior or interests of any single individual, less still to the impersonal/natural environment. Even in cases where an authority figure unilaterally dictates truth within his/her stewardship, this authority can only exist within a pre-existing moral coalition: such a person is only authorized to dictate law to others if and only if s/he is socially recognized as being authorized to do so. Similarly, the impersonal environment does not speak for itself, but instead requires that some person(s) does so who has been, again, socially recognized as having the authority to do so (echoes of Bourdieu here). For this reason, I differ both from Nietzsche's perspectivism as well as the objectivists that he attacks.
My model is not true… but nor is it false. Nietzsche's view of his own work and its reception is relatively straightforward: The strong nobles will praise it, the weak will condemn it, and that's about all there is to be said regarding this physiologically determined process. Such an account, however, leaves little, if any room for asking whether any of this praise or condemnation is justified. Nor is it clear why a noble such as himself should ever bother to share his thoughts with others if his inner drives are all that matter. This point, at which Nietzsche leaves off, is exactly where my own model picks up. Whether a person praises, condemns or simply ignores Nietzsche is not merely an expression of an inner striving, but a goal-directed within our shared, social environment.  Nietzsche did not write his books merely because "that's just his noble nature". He wrote it to marshal a moral coalition against modern morality and its calls for universal equality. The overt prescriptions to be found within his writing were quite clearly aimed at furthering his own interests at the expense of the moral majority, and it was for this reason that they condemned his teachings as "false".
By contrast, my own model actively strives to strip itself of all prescriptive content, ideally tending toward pure instrumentality. The model can be used to understand, fortify or subvert a wide range of communities, from egalitarian utopias, to benevolent (or malevolent) dictatorships, to the free market of the libertarians, to the strictest technocracy that Pluto or Lenin could ever imagine. Like any other tool in the toolbox, my account is neither true, nor is it false – nor does it pretend to morally bind its audience in any direction at all. In terms of the illustration above, I actively seek for the center of the downward sloping axis of "moral prescription" but the higher end of the upward sloping axis of "intelligence". How good/smart or bad/stupid it is will largely depend upon the uses to which it is put.
To the extent that my model does have any moral relevance, this lies in its potential to subvert any dogmatic, intellectual monopoly that pretends to a coercive exclusion of all alternatives. The Catholic Church, some forms of Islam, advocates of scientism, and the Bolsheviks have all, to one degree or another, at one time or another, sought to establish just such a monopoly, and my model is specifically design to subvert all such attempts. Some people from within these communities will, quite obviously, consider my account to be utterly false.  People like me, however, people who value the availability of viable alternatives from which we can freely choose, gladly accept this condemnation as a badge of honor.