I think we can all agree that within Mormonism there is a certain kind of ambivalence toward intellectualism, even if we aren't quite able to put our finger on it.  On the one hand, it seems clear that Mormonism embraces intelligence as such, going so far as to equate it with the Glory of God.  Along these lines we are also told to seek truth and knowledge from the best books and counseled that to be learned is good so long as we don't abandon the faith.  On the other hand, there are at least as many passages which warn us of the learned and scholarly who preach the philosophies of men according to the understanding of the flesh.  These tensions within the scriptures leave one wondering what place, if any, is to be found for intellectuals within the church.
The mirror image of this ambivalence within Mormonism towards intellectuals is a certain ambiguity in the term itself, for it is not at all clear who does and does not qualify as an intellectual.  For example, in my experience "intellectual" is a term which is typically applied to others rather than oneself out of a sense of modesty.  This would seem to suggest that the term designates somebody with exceptional intelligence or mental ability.  There are, however, those who would call themselves an intellectual without any kind of immodest connotations.  These people seem to think the word refers to anybody who enjoys or is drawn to mental activities such as reading, writing, arithmetic, etc. without any regard for the person's abilities or talents in these activities.  I would suggest that there is nothing in these definitions (mental ability or mental activity) which is contrary to Mormonism.
I would also resist any attempt to equate Mormon hostility toward intellectuals with a hostility toward certain kinds of mental content.  To be sure, Mormonism is clearly hostile towards some beliefs and desires that are popular among intellectuals, but the antipathy which concerns us here is with the intellectuals as people, not the beliefs that those people happen to have.  Furthermore, the scriptural warnings of which we speak are not aimed at "atheistic intellectuals" or "Darwinian intellectuals", but are aimed at intellectuals as such.  Accordingly, I suggest that Mormon opposition toward intellectuals has little to do with mental ability, mental activity or even mental content, per se.  The church obviously does not want us to be stupid or ignorant.  Furthermore, while the church also does not want us to hold certain beliefs which enjoy some popularity among intellectuals, it goes even further in not wanting us to be intellectuals in some deeper sense of the word.
Scriptural warnings against intellectuals are aimed not at mental ability, mental activity or even mental content, per se, but at mental hegemony.  The church does not want us to be stupid or ignorant, but it does want itself to have the final word on certain subjects.  (The same goes for every social group which seeks to reproduce its influence in the world, but at least the church is upfront about it.)  Mormonism, then, is not against mental activity or mental ability, but the idea that the mind can/should be applied to – and in some sense have the last word on – any given subject.  The mental hegemony of which I speak is not the claim that a person's thoughts, words and deeds cannot be constrained at all, but is instead the claim that the only thing that can legitimately constrain them is the intellect, be it their own or somebody else's.
At this point it is worth repeating that the intellectualism at issue here is not the supremacy of any individual person's intellect, but the supremacy of the intellect as such.  There is a huge difference between these two positions, for the first says that some person is beyond question while the second says that the only thing that can legitimately call a person or their thoughts, words and deeds into question is the intellect.  In other words, a particular person's gender, class, sexual orientation, social status, group membership or other such non-intellectual and non-universal attributes are, as such, irrelevant to an intellectual as far as justification goes.  The only thing that justifies or legitimizes thoughts, words and deeds are the intellectual abilities and activities which we all possess.
The intellectual which is under attack in the scriptures is very similar to Alvin Gouldner's portrayal of them a anybody who is imbued with the culture of critical discourse (CCD):
"[CCD] insists that any assertion – about anything, by anyone – is open to criticism and that, if challenged, no assertion can be defended by invoking someone's authority.  It forbids a reference to a speaker's position in society (or reliance upon his personal character) in order to justify or refute his claims… Under the scrutiny of the culture of critical discourse, all claims to truth are in principle now equal, and traditional authorities are now stripped of their special right to define social reality…  The CCD … demands the right to sit in judgment over all claims, regardless of who makes them…

"CCD requires that all speakers must be treated as sociologically equal in evaluating their speech.  Considerations of race, class, sex, creed, wealth, or power in society may not be taken into account in judging a speaker's contentions and a special effort is made to guard against their intrusion on critical judgment.  The CCD, then, suspects that all traditional social differentiations may be subversive of reason and critical judgment and thus facilitate a critical examination of establishment claims.  It distances intellectuals from them and prevents elite views from becoming an unchallenged, conventional wisdom." (Against Fragmentation: The Origins of Marxism and the Sociology of Intellectuals, 30-31)
We are now in a position to understand scriptural hostility towards intellectuals a little better.  The scriptures are not against us using our intellect nor are they against us having intelligence so long as these things are properly constrained(!).  The scriptures are very much against our tendency to measure the gospel by intellectual standards such as empirical support or rational coherence.  The gospel is under no obligation whatsoever to answer to our intellectual questions, nor is it in need of any kind of intellectual support.  To the contrary, the gospel reserves the right to trump any thoughts, words or actions of our own, regardless of their intellectual merits.  Thus, it is good to be intelligent and well-educated so long as we allow the gospel to constrain our intelligence and education rather than the other way around.
After thoughts:
Having had a bit of time and feedback, I thought it might be nice to add a few thoughts.  Here is a basic break down of the types of intellectualism which are considered in this post.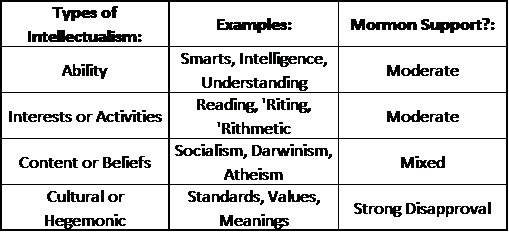 In the end, I suggest that the only intellectualism which Mormonism is consistently against is what I call cultural or hegemonic intellectualism.  The church is clearly not against us being smart, nor it is against us seeking an education.  What the church is against is the idea that our intellect and understanding have the final say with regards to what we believe, say and do.  "I know not, save the Lord hath commanded me" is the epitome of this anti-intellectualism where we are encouraged to do things that make zero sense and find zero intellectual support within us.