This is the post that I did not want to write.  Like the man who tells us not to think of elephants, I didn't think there was any way that I could clearly articulate my position without producing the exact opposite of the intended response.  However, my recent post about the two competing moral theories which logically entail one another has unexpectedly given me a tool by which I might avoid the Scylla of silence without be caught in the Charybdis of contradiction.  We'll see how this goes…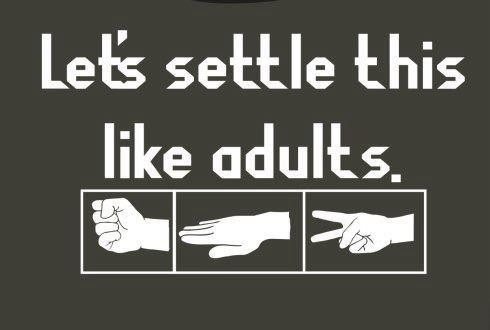 We can depict the game of Rock/Paper/Scissors with an equilateral triangle with R, P and S at each of the vertices.  In this triangle, R beats, and therefore points to S which in turn points to P and P to R for similar reasons.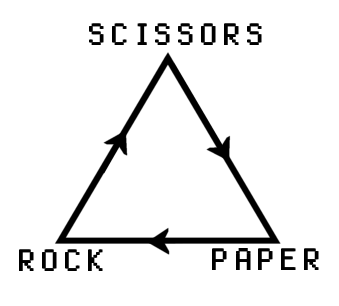 I now want to use this logical map to unpack the ideas which have been floating around in my head for the past year or two.  In order to do this, let us reinterpret the arrows as meaning "entails" or "leads to" rather than "beats".  Let us also replace "Rock" with "Religion", "Scissors" with "Science" and "Paper" with "Pragmatism".  These are pretty rough and ready labels (we could have used "Revelation", "Skepticism" and "Post-modernism", etc.), but I think they're good enough to get the job done.
Each of the three points has a different conception of truth which cannot be fully reconciled with those of the others.  R sees truth as a path toward some destination which is transcends this world.  S sees truth as an objective picture of the world.  P sees truth as a contingent tool by which we navigate the world.
Let me now tell a story which links the three points together.  For a long time, people lived in a state of R wherein they cooperated with each other by obeying and enforcing those rules which essentially defined the path they took themselves to be on.  Beliefs were true to the extent that they lead toward the transcendent destination. (Iron rod anyone?) However, people soon became uncomfortably aware of many different paths which other people seemed to be following.  Whether these other paths ultimately lead to the same destination or not was unimportant.  What was important was that following their particular path which its particular set of rules now seemed contingent, arbitrary and optional.
It thus became imperative that they find some way of deciding which path was the "true" one.  (Notice that the meaning of "truth" has already changed!)  People thus embraced a number of rules which no reasonable person could disagree with, rules against contradicting observed experience or other known truths.  These rules were usefully employed in the form of criticism (in order to eliminate opponents) and skepticism (in order to fortify themselves against their opponents).  This practice, S, effectively eliminated essentially every reference to any destination which transcended this world and truth came to mean a fully consistent picture which corresponds to reality.  Beliefs, then, were true to the extent that they accurately corresponded to reality.
At this point, people within S began to notice that a complete correspondence between beliefs and reality seemed like a rather mysterious goal which was no more of this world than the transcendent destinations of R.  In other words, S was really just one more path among all the others whose rules were entailed by a shared destination which constantly lay out of sight.  Accordingly, the rules of S also came to seem contingent, arbitrary and optional to these people who came to be known as P.  Of course, the fact that no set of rules or beliefs could be shown to be necessary, universal and binding did not mean that these rules must be bad or worthless.  On the contrary, the people of P came to see beliefs as tools to use and live by and those beliefs were true to the extent that they were good tools to live by.
At this point, however, the people of P began to ask themselves whether this belief concerning the nature of truth was itself a very useful tool to live by.  Besides serving as a criticism of S, it did not seem to do much good, for tools can be put to at least as many purposes as there are people and preferences.  In other words, the truth of P was like using an open field as a path in that it pointed nowhere and everywhere all at once.  At any rate, there was clearly no longer any reason why two people were bound to tread the same path, let alone obey the rules which defined any such path.  Thus, in order to live meaningful and fulfilling lives with those around them, it became expedient that they bind themselves together in a shared path which led to some destination not unlike the people of R.
Consequently, we have three states within a closed loop each of whose doubts and suspicions about the others serve to indicate the direction of its flow.  R is the escape from the individualistic nihilism of P by way of a truth which is transcendent and sees S as leading right back to that mess.  S is the escape from the irrationalism and superstition of R by way of a truth which is objective and sees P as leading right back to that mess.  P is the escape from the delusions of objectivity and hypocrisy of S by way of a truth which is contingent and sees R as leading right back to that mess.
The question now is where does one stop in this cycle?  By whose criteria does he/she make such a choice?  How does one justify this decision to those who have stopped at a different place?  Is stopping at any point even justified at all?