Continued from here.
For those of you who are new, click here for the entire series.
Seeing as the more free of commentary on my charts I am, the less crazy the comments on the post are, I am going "commentary lite" on this one.
Scores here are based on a 1-5 Scale with 1 being "Strongly Disagree" and 5 being "Strongly Agree". Today we will go over all the questions related to gender.
(If you are having trouble seeing the image in this post, click on it to pop it open in its own window)

For me the most interesting way to look at this data was in sets of two questions.
For example, on Heavenly Mother, belief was very strong across the total set:

For Polygamy, we were mostly neutral, but also trending towards being against it:

Questions regarding patriarchy were a little confusing, in that one question was negative and the other positive, but the general consensus tends towards egalitarianism: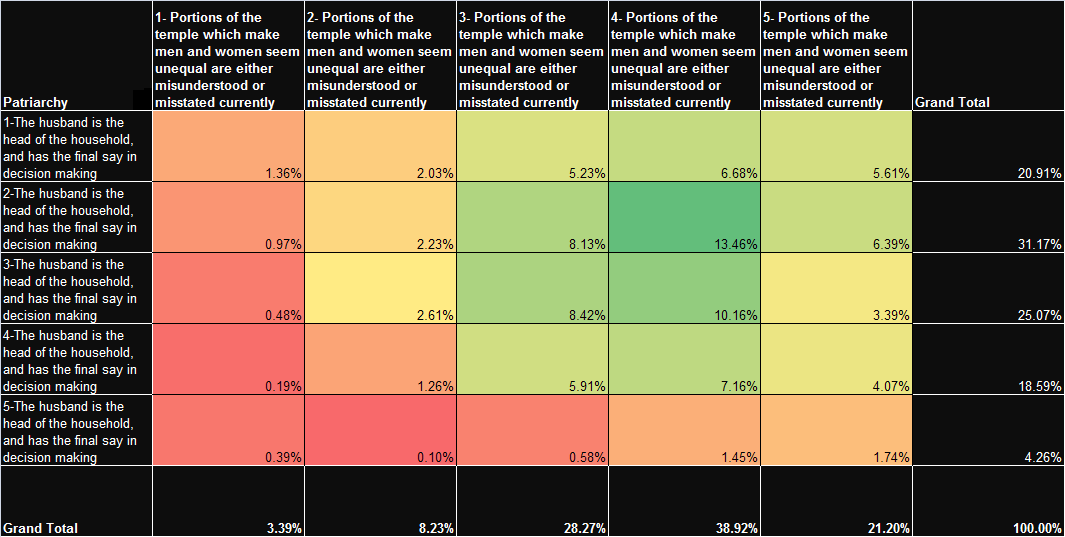 Lastly, The Majority of people were in favor the idea that women receive a form of the priesthood via the endowment, but are against the idea that some day women will be ordained to the priesthood as men currently are:


To be continued…