Continued from here.
Well, we've talked about engagement before, so I don't want to spend too much time on it, especially as there have not been that many dramatic changes in the results, even though the questions I used this time are a little different.

To begin, here is the basic rundown of results:

As you can see, we're still pretty in sync with our last survey. We still need to work on all the same things and are still positive in all the same areas. This time around, I added an Average Score of Total Engagement which works just like the Average Discipleship Score from the previous post.
The breakout across our 1322 respondents is as follows: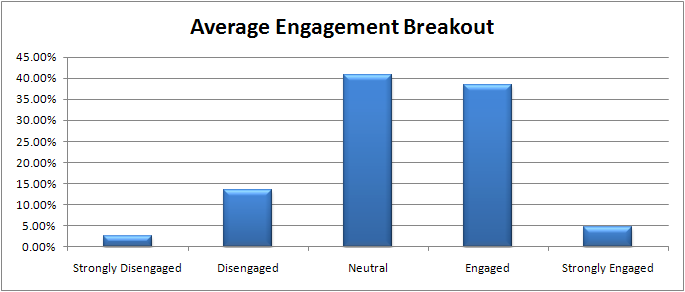 As we've already discussed, there is a pretty strong correlation between Discipleship and Engagement.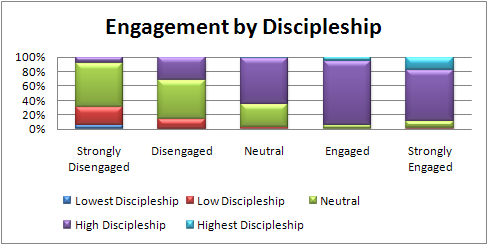 In other areas though, there seem to be more discrepancies.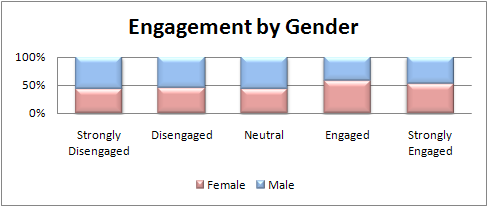 While women clearly dominated on the strong side of the engagement buckets on the discipleship section, the results are not as clear in a similar chart here, however, when we break them out based on average scores, men clearly lose out.

So women are more engaged and better disciples than men. More on that in a minute, but first let me tell you about desired outcomes.
While Gallup suggests outcomes like donation amount as share of wallet and hours of church service given, I did not really think those were appropriate for the LDS audience and narrowed the desired outcomes to 3.

As can be seen, the most limiting factor here is the rather specific question on missionary activity. I almost excluded it from the outcomes, but decided not to, as I do think sharing our faith is a worthwhile pursuit.
Anyway, so let's take a look at the correlation between discipleship, engagement, and outcomes from the perspective of outcomes.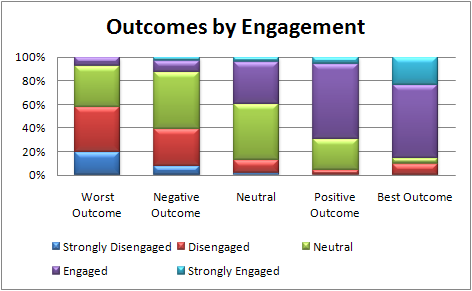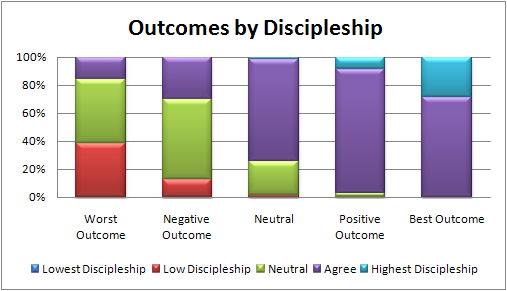 As expected, higher engagement and higher discipleship both lead to better life outcomes within our sample set. With that in mind, and with the gender correlations we've seen up to this point, the following should come as no surprise.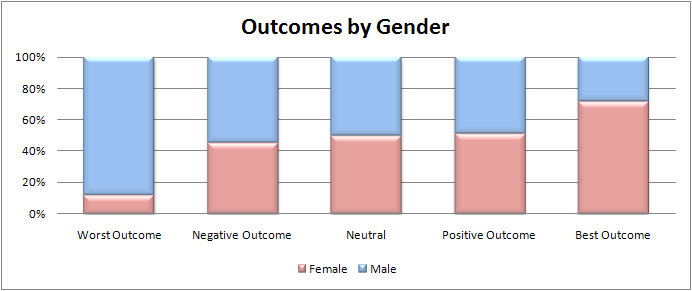 While this chart is pretty explicitly demonstrative in favor of women's superiority, there is one nuance we miss if we don't go to the chart.

More life satisfaction, more inner peace, but slightly less likely to have invited someone to church. To come up with a hypothesis on that, and to throw out a basic stereotype, this may just be more of a function of occupation than anything else, with women more likely to be a stay at home parent than men, and thus have less opportunities to invite others to come to church.
Implications up to now:
1. Women are more awesome than men. So the next time you hear someone say men have the priesthood as a crutch, or some other thing which sounds silly or lacks gender equality, just keep in mind that generally speaking they are right.
2. You will be more satisfied with your life and have more inner peace the more engaged you are at church. The "Sunday School" answers (Read Your Scriptures, Say your prayers, Go to Church) actually do improve your life.
Next- Why we argue about Darwinism\Creationism so much.