In attempting to measure discipleship, I loosely followed Gallup Press's model for measuring spiritual commitment by asking 11 questions related to personal religious experience. We ranked the response 1 (strongly disagree) to 5 (strongly agree). Before we dive into any comparative analysis, let's first look at the questions with their average score from the sample set and the percent for each question which scored a 5.

As can be seen, the lowest scoring response was for reading the scriptures everyday, with about a 50/50 split on the agreeing and disagreeing respondents here, and only 13% feeling they could strongly agree that they read the scriptures daily. In that the total discipleship score is merely an average of all the other discipleship questions, this made the group which answered 5 to all questions very small.
The breakout for average total discipleship was as follows: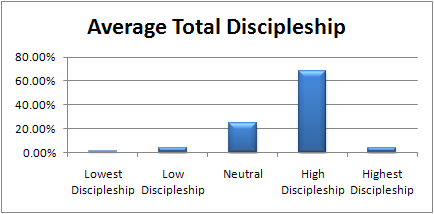 You can see that most respondents fell into the neutral and tentative agreement section, with very few in disagreement. This makes breakout analysis risky, but hey, I'm gonna do it anyway.
With this in mind, I am going to show the rest of the graphs in this post as % break outs of each bucket. So while some buckets may be teeny tiny and thus prone to error, I think the potential story they tell is interesting nonetheless, and worth consideration.
So for example: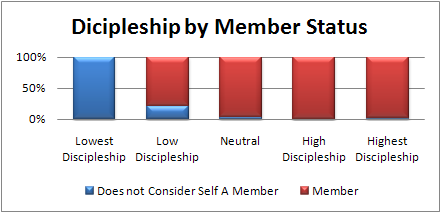 This one is fairly obvious, considering one of the questions of discipleship is whether one attends church, but those who did not consider themselves members who took the survey dominated the low end of discipleship, while those who were members controlled the rest of the board.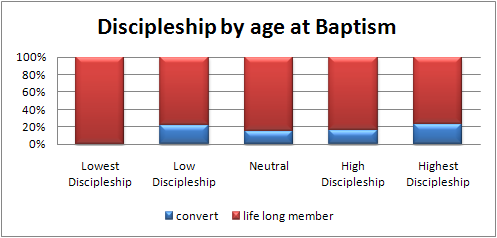 Converts who were interested enough to take the survey fell somewhat evenly from low to highest discipleship, but evaded the lowest are of discipleship.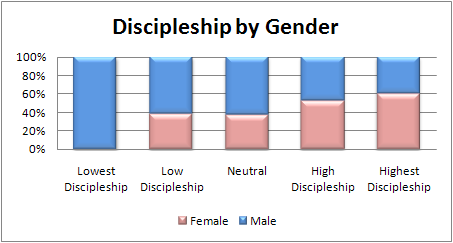 People are always asking why the general authorities are always talking like women are more spiritual than men. Now we know.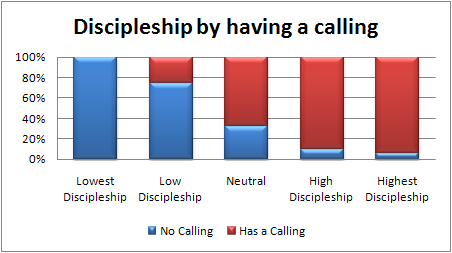 People without callings generally correlate to a low sense of discipleship, but even a small subset of those with the highest level of discipleship do not have callings.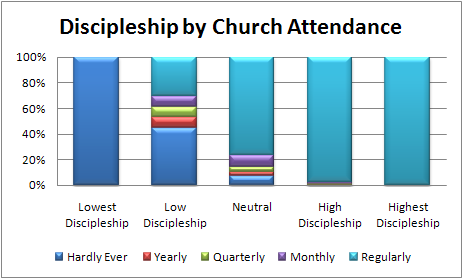 The High end of discipleship is dominated by those who attend church weekly, the low end by those who never attend.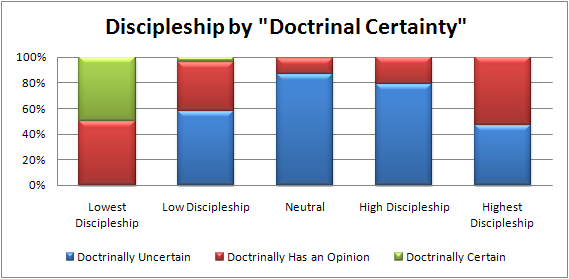 This one takes some explaining. I took the questions relating to evolution, polygamy, etc, and calculated a form of doctrinally certainty, where if a responded with strong opinions either in agreement or disagreement to a give question, they were considered more doctrinally certain, while people who were apt to label everything a 3 were considered doctrinally uncertain and so on. As a surprise here, those with higher levels of discipleship were more much less likely to be doctrinally certain, with those who answered with certainty (either in agreement or disagreement) all ended up on the lowest end of discipleship.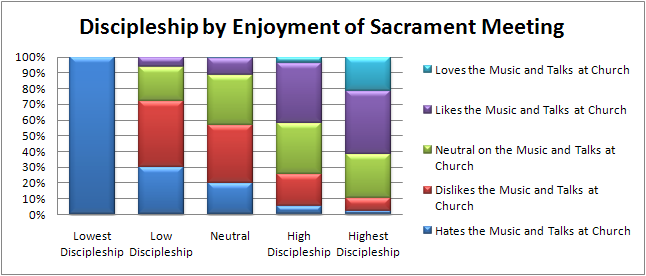 Also in the survey, I asked two questions about the enjoyment of sacrament meeting. There is a clear step here, with the high end having the greatest willingness to enjoy sacrament meeting, while the lowest in discipleship clearly do not consistently enjoy it.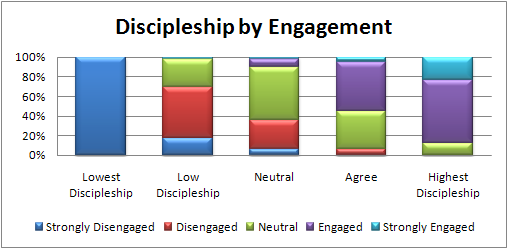 Last, I used the questions from the engagement section of the survey (similar to this post) to rate each individual's general engagement in the church, and as advertised, there is a very clear correlation between Engagement at Church and Discipleship.
Up Next- Desired Outcomes of discipleship and More Engagement.
Appendix:
Since there were so many questions relating to doctrinal certainty. I wanted to add some nuance here. Again I simply recalculated the answers to "doctrinal" questions to be 1-3, then I took the average of all the questions, with those closest to 1 being the most neutral and those closest to 3 being the most certain.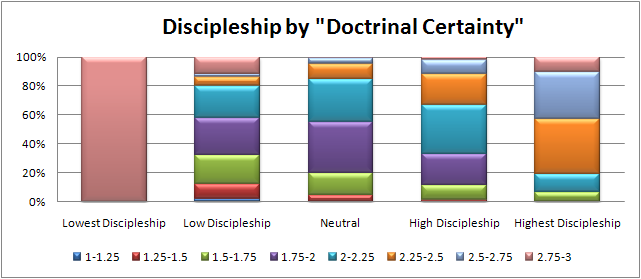 To me this mainly says this data is inconclusive. Any other opinions?