Firmographics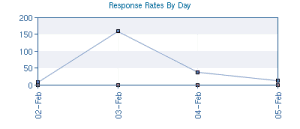 First, we ran the survey from February 2-February 6 and had a total of 218 Responses. 4 responses were unusable due to bad data, which left 214 responses. The survey was only presented through this blog, and all respondents came to the survey via this blog, so we can safely say the responses of this survey represent the readership of Newcoolthang.com.
Second, as you can see from the results above, most responses to the survey were within the first 24 hours. This tells us that the majority of the readership of newcoolthang.com probably check their source for this website's material at least daily. So thanks for your interest!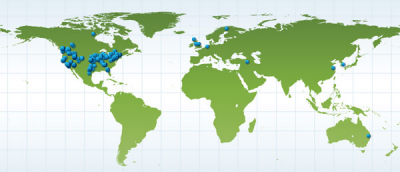 Next, we can look at where the computer thinks you are based on your IP. While it is flattering that we have readers in Australia, the UK, the Middle East, Europe, Asia, and Canada, the vast majority of the respondents were in the USA, so we have to assume any church engagement findings we discover will be US-centric.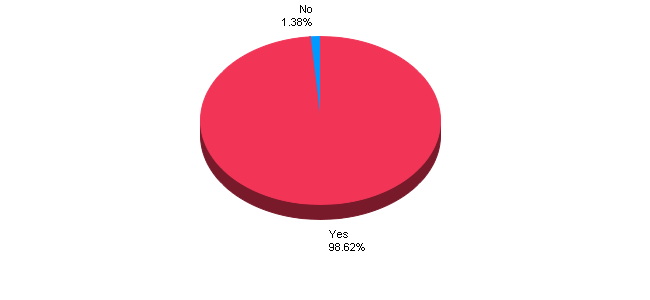 Do you consider yourself a member of the Church of Jesus Christ of Latter-day Saints?

The first question was meant to be a catch-all protection against members of other churches skewing the results of the survey. Perhaps I needn't have worried, as only 3 respondents answered that they did not consider themselves members of the church, and their responses lead me to believe they still attend church. Also, in hindsight, I realize that wording may have excluded excommunicants, so if I were to do this again, I'd word the question "Have you ever considered yourself a member…" rather than "Do you…." In any case, the readership on NCT is 99% members, and those who do not consider themselves members were baptized, so I chose to include that 1% of respondents as well.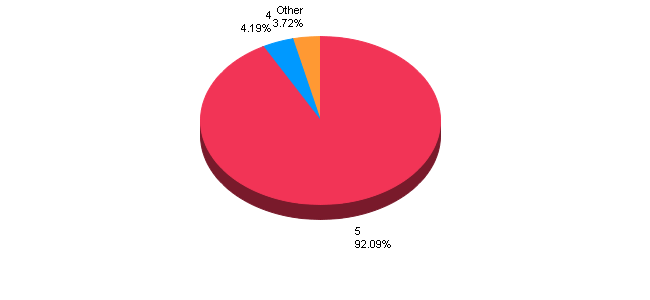 How Active do you consider yourself at church?
This question weighted the response with points, 5 being the most active and 1 being the least. As you can see, NCT readers are very active, with 92% of the readership attending church more than once a month. 4% more attend at least once a month, with the final 4% attending less than that. For the sake of this survey, I am going to consider the top 96% "More Active" and the bottom 4% "Less Active". More on that later.
How old were you when you were baptized?
86% of the respondents were baptized at age 8. For the sake of this study I am considering all of them (and my two 9 year old baptisands) "Life-Long Members" as opposed to "Converts". Rather than show the rather boring chart of lifers vs converts here, I thought it would be more interesting to pull out converts by age.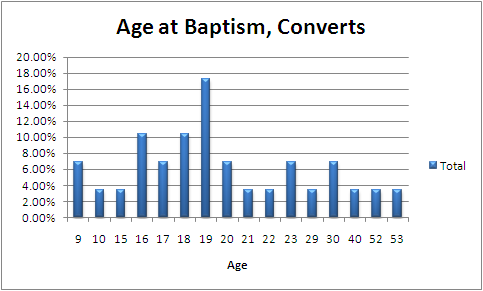 (Perhaps an interesting point of further study would be to go flesh this out a bit in another survey, as it certainly suggests that the largest success area in the US for missionary work are teens aged 16-19. However, since we have no idea of knowing if this is exclusive to "bloggernacle" types, or if this is high success rate in this area is due to more attempts or more opportunities.)
Anyway, with our caveats in place (Mainly US, Mainly Active Members, Mainly Life-Long Members) We can continue.
Results
Since these are weighted results (1 being most negative and 5 being most positive), the easiest way to handle them is to take the average response for each question. For the whole set, this looks like:
I've ordered the responses by score. Generally speaking, anything above a 4 is a good score, and anything below a 3.5 needs work. So looking at the above, we can see that the church is doing well in terms of setting expectations, providing materials for callings (this was surprising considering all the fuss about lesson manuals lately), and having leadership show sincere caring.
On the flip side, the church has it's work cut out for it in working on "Thinking to Thank", Fitting the Calling to the individual, friendshipping at church (the low score here totally surprised me at first, except then I looked into it, and this is the lowest score for most corporations also. This may be due to a too-literal understanding of "best friend" or thinking of church as local only. I'd love feedback on this). Finally, the absolute lowest score went below 3, which I would consider in the danger zone. As you can see, it was the question of whether someone at church asked you about your progress in the last 6 months. In our local ward, we often see converts drop away around the year mark, and we often see teens drop away shortly after becoming adults. I suspect that this question could have a correlation to those results, in that new converts and teens are highly evaluated, and perhaps going from a period of high attention to low attention connects well to loss of members.


I almost did not include the above, because the sample size for "less active" is so small, but I did want to highlight one result, even if the sample size makes it tentative at best. It is this. For the question "Are your associates (fellow church-members) committed to doing quality service?", The "Less Active" scored much higher than the "More Active". This is especially interesting because in all other categories, we find what we would expect, that those "less engaged" in going to church scored lower than those "more engaged". But for this one, it is the opposite. Perhaps it is true that familiarity does breed contempt.


For this last chart, I simply wanted to highlight the difference between "lifers" and "converts". Converts, down the line, scored higher than life-long members. While this may seem like a win for converts, ultimately, I want to remind you that converts are supposed to be 60% of the membership of the church, but only represent 13% of the respondents. The best we can infer that to the extent converts are engaged in online discussion regarding the church, they are also more engaged in the church than life-long members.
I regret not having asked for current age and for not asking for gender in this survey, as I would have loved to divide the results along those lines. But for what this survey was, I am pleased with the results, we can easily see areas where we need improvement, and we can see where we are doing well.
When we do these types of studies at work, we have 3 basic follow-ups:
1. Why are we God/Bad at this item? (one of the questions above)
2. What can we as individuals do to improve the score of this item?
3. What does the institution need to do to improve the score of this item?
So what do you think?