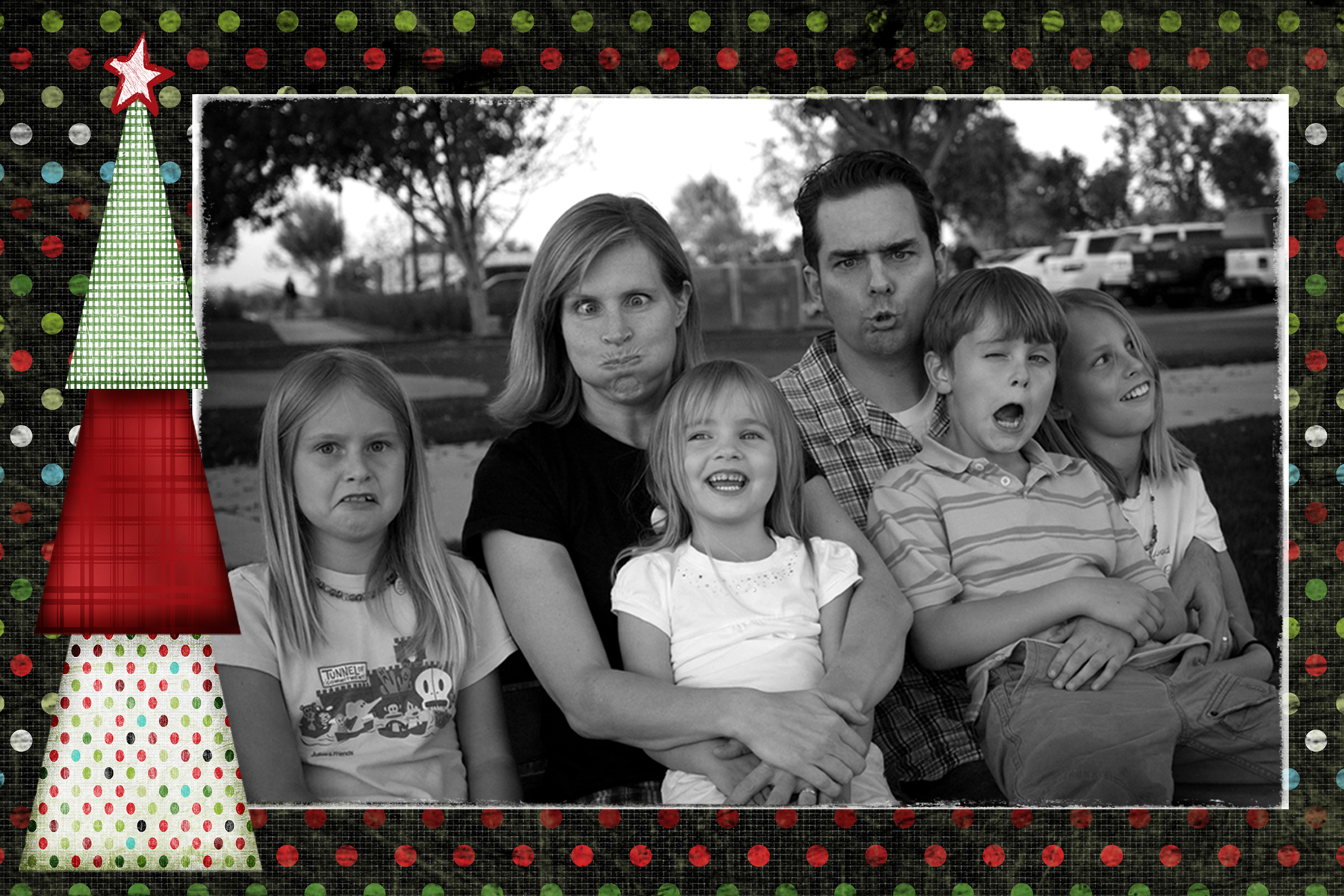 Dear Family & Friends,
This morning I was going over my long holiday to-do list and saying to myself, "This is out of control! I've got to get rid of some of this stuff." I ran my finger down the paper and stopped at "Send out Christmas letters and cards". Yes, that would be the first to go. No Christmas cards from the Js this year.
Then a picture came to my mind of everyone chasing down their mailmen and shouting, "Where is the J's Christmas letter? I haven't gotten it yet and the holidays won't feel right until we get that letter!"
The harried postman would reply, "Look lady(or dude), I just deliver the mail. Call the Js and ask them yourself where their stinking letter is." So, for the postman's sake I decided to write the letter.

Geoff is still working hard at his businesses but he still finds time to write on his blog and play in a band called "Copper Rocket". Someday I picture him being the front man in his nursing home's band where he will be holding on to the mike for dear life and gasping out, "Play that funky music white boy," while trying to dodge the granny panties that are being flung onto the stage.
I continue to excel at my duties as a mother. I am probably the most proud of my ability to nag. This past year my main area of focus has been on bathing. Are my kids any cleaner after 12 months of constantly being harangued about bathing? I really don't think so, but at least I have learned a few valuable lessons. The most important being this: Without moms this world would be a very stinky place. I won't even start on the bed head.
Maybaby is a fun kid. She is a great babysitter and now brings in the second largest income in our family. I was going to write some funny things about her in this letter but I changed my mind after I realized that she has reached an age where; she will read this letter, she will understand it completely, and she will be more than happy to let me know exactly how she feels about it. I'll just say that during the past year Maybaby has reached a state of being "fully awesome".
Bubbles is a very creative person and during the past year she been channeling that energy into fashion. She has come up with some very interesting outfits that I'm sure would be considered cutting edge to the outside world but seem a little strange to her family of rubes. I'm doing my best to not stifle her creativity in hopes that it will pay off in a few years when I'm flying to Milan to see her latest collection.
Q-dog gave me a great shock this year when he decided to become a member of the Pokemon Army. I thought Pokemon was a thing of the past, a relic that only 18 year old boys looked back on with fondness. I have never been more wrong in my life. Pokemon is alive and stronger than ever existing in the dark underworld that is 7 to 10 year old boys. We as a family are waiting to receive him with loving arms when at age 11 he decides to free himself from this adorable yet vicious brigade.
Feeny continues to run our family with a cute and slightly chubby fist. Those of us currently under her rule are counting on a universal law to free us in the next year or so. This is the law: As your baby fat lessens, so does your ability to control your subjects.
Fui, the rat terrier, has made it through his first year with the Js. Most of us really like him and are glad he is a part of our family. Can you guess which one of us is not so fond of Fui? I bet you can!
We love you all and pray that the coming year is full of good fortune, great happiness, and is awesomely awesome for everyone.
Love,
Geoff, Kristen, Maybaby, Bubbles, Q-dog, Feeny, and Fui