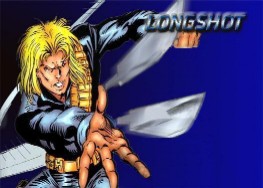 So Clark and I were discussing superheroes and Mormonism briefly the other day. He already put up a post on it (but in true super villain form failed to mention me – he shall hereafter be known as Dr. FailsToGiveProps). Anyway, I always thought the Mormon super power (if we had one) would be closest to the powers of an obscure former X-Man named Longshot.
Longshot was actually neither a human nor a mutant, but somehow he made it into the X-Men for a while. His super powers included things that have nothing to do with Mormonism like agility, knife throwing accuracy, etc. But his best super power was this: Good Luck. To quote the Wiki linked to above:
He was genetically engineered and possibly augmented by magical means to have certain superhuman abilities. One of these is his ability to affect probability fields through psionic means in order to give himself "good luck" in his activities. This ability is tied into the positive aspects of his personality: should he attempt to use his powers for a selfish or evil act, or should he give up hope, his powers will fail to function.
This is the Mormon super power if I ever heard it – at least our scriptures say it should be. Now, like Longshot, we may know it is not actually just good luck. In his case he controls laws of probability in his favor. In our case we ask God to do the same thing for us. And like Longshot, we can only gets God to help us with righteous desires, not selfish or greedy desires.
The Book of Mormon if full of examples of this "super power". How many times are we reminded "Inasmuch as you keep the commandments of God you shall prosper in the land". (At least 13 apparently.) That sounds like a promise of some general good fortune to me. How many times did the Nephites beat incredible odds to keep the Lamanites from completely overrunning them? The Lamanites always attributed Nephite success to luck and cunning – the Nephites attributed it to God helping them. It is almost like the Nephites were using their super-power; "Hey Alma, can you ask God to look and see where the Lamanites will cross the River?" Alma comes back and says "It'll be at point X". The Nephites then waited in ambush for them and did some serious butt-kickin'. Hey, it is war and if God happens to be on your side then good for your side.
I used to joke with my seminary students and tell them: "You are Mormon; you get to cheat in life and ask God to help you. You get to ask for help and promptings all the time. And God is happy to oblige." Of course it is not really cheating; it is simply taking advantage of a real relationship with God to prosper in the land.
Of course this all leads us to the Spidey's famous saying "With great power comes great responsibility". (Or the Mormon version in the D&C if you must). Whenever God blesses us the ante is raised and he expects us to bless others more. There is no using the God's intervention solely for selfish purposes.
So what do you think? Have you used your Longshot-like powers to do good for yourself, your family, and others in the world? Are you properly being a super-hero?
Also, what would your unique and personal super hero name and power be? Or you could give others around here super hero names and describe their powers if you prefer… (For instance I think the super villian name I would give Kristen would be The HobbyGoblin with the power of taking up, wearing out, and leaving a hobby in a matter of weeks… ;-) )