Here's an invite to all Bloggernaclites in or around San Diego to come check out the farewell performance of a cover band I have been playing in (on and off) since 1995. Kristen and I will be there and it ought to be pretty fun. Here is the flier: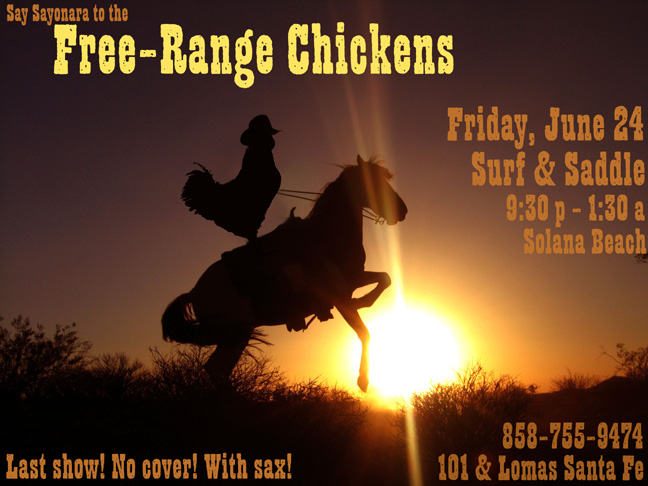 I'm actually not sure if a Bloggernacle BloggerRocker is good idea or not. Inviting a bunch of devout Mormons to come listen to my old rock band blast away all night in a beach bar isn't exactly like an invitation to a ward party. But I figure there might be a few people interested so here you have it.
In case you are wondering, I do indeed live in Arizona now and have lived here since last Spring. It has been more than a year since a gigged though and I was really starting to miss it. I promised the Chickens I would sit in if I was ever back in town so when I heard the husband and wife couple that founded the band was moving to the Bay Area I decided I better make the trip back. I was in SD last weekend for a family reunion and got to practice with the band just enough to realize that I was very rusty both on my vocals and my sax. Hopefully I will practice up enough before next week to get my chops back.
I play sax on gobs of songs but here are the ones I'll be doing the lead singing on as well:
-Save it for later — English Beat
-Mirror in the Bathroom — English Beat
-Come out and Play — Offspring
-U.G.L.Y. — Fishbone
-Are you gonna be my girl — Jet
-Love Shack — B52s
-Time Bomb — Rancid
(I think there are more but I can't remember right now…)
Anyway, it has always been a fun band to be in. The members are all professionals (PhDs, Attorneys, business execs, etc.) that happen to be rockers too. I was the only Morm and the "kid" of the band (I'm 35 now if that tells you anything) but we rock pretty hard considering.
Anyway, if you are in the area come by and see for yourself. Kristen hates sitting through my long gigs so she would appreciate the company.